If you're thinking about going vegan, you've probably wondered if seaweed is considered vegan? The answer is yes! Seaweed is a type of algae that is rich in nutrients and minerals. It's also high in omega-3s and iodine, making it a great addition to any vegan diet. In this article, we'll discuss seaweed's nutritional benefits and share six simple ways to add more sea vegetables to your diet.
What is seaweed, and what are its nutritional benefits?
Seaweed is one of the most nutrient-rich foods on earth, with vitamins A, C, E, and K, plus calcium, iron, zinc, and magnesium. Sea vegetables can also help lower blood pressure since they contain an amino acid called arginine, which helps dilate blood vessels so that blood flows more easily through them.
Seaweed's health benefits come from its high mineral content. Seaweed also contains antioxidants, which help protect cells from damage caused by free radicals, unstable molecules that bind to essential proteins in the body and damage them. Antioxidants can prevent this by intercepting free-radical molecules before they attach to other cells. 
In addition, sea vegetables, also known as sea greens, are a great source of iodine. Iodine helps keep your thyroid hormones functioning correctly, which is vital for your metabolism and energy levels. It also helps with weight control since your thyroid sets your body's resting metabolic rate. 
Why is seaweed good for a vegan diet?
Seaweed is a vegan-friendly food packed with nutrients. Not only is it a good source of iodine, but it's also a good source of calcium, magnesium, and iron. In addition, it has been shown to have anti-inflammatory properties and can help improve gut health.  
Algae and seaweed are sources of omega-3 fatty acids for people who eat a vegetarian or vegan diet. While you can get omega-3 fatty acids from animal sources (such as fish), algae and seaweed are also rich in these vital nutrients.
For vegetarians and vegans, ensuring adequate intake of omega-3 fatty acids can sometimes be challenging, but incorporating seaweed into the diet is a delicious way to meet this nutritional need!
Can eating too much seaweed be bad for you?
While seaweed is generally considered a healthy food, eating too much of it may be harmful. This is due to the high levels of iodine found in seaweed. Even though iodine is an essential nutrient that helps to regulate the thyroid gland, too much iodine can cause the thyroid gland to become overactive and produce too much hormone. Eat seaweed in moderation and consult with a doctor if you're concerned about iodine levels.
The good news is that cooking seaweed can reduce its iodine levels. For example, when kombu is boiled in water for 15 minutes, it can lose up to 99% of its iodine content.
Seaweed vs. Sea Vegetables
While the terms "seaweed" and "sea vegetables" are often used interchangeably, there is a difference between them. Seaweed is a general term for any type of algae found in the ocean.  Sea vegetables, on the other hand, are specific types of seaweeds that are edible and wild harvested or cultivated for human consumption.
If you're tired of only adding kale, chard, and spinach to your dinner plate and want to mix it up with something more exotic, try sea vegetables. These so-called superfoods are a staple of the Japanese diet, but they also show up on restaurant menus in cities all over the U.S.
Popular varieties of edible seaweed
Salty, crunchy, or savory — there's a seaweed variety for everyone. And once you find one you like, you can be sure you're getting plenty of health benefits along with it. Below are some of the most popular varieties of sea vegetables.
Dulse
Dulse is a variety of edible seaweed popular in many parts of the world. Its unique taste and texture make it a flavorful ingredient in many dishes. In addition, dulse is rich in vitamins and minerals, making it a healthy addition to your vegan diet. Dulse is full of umami and is an excellent option if you're looking for a new way to add more greens to your diet!
Hijiki
Hijiki is a type of edible seaweed that is often used in Japanese cuisine. It has a slightly salty and earthy taste and is high in calcium and iron. Hijiki can be eaten raw or cooked and is often added to soups or rice dishes.
Kelp
Kelp is a popular type of seaweed harvested for its taste and nutritional value. It is a rich source of dietary fiber, vitamins, and minerals. It's slightly salty and used in soups, salads, or as a wrap. Kelp can be found fresh or dried in most Asian markets. When purchasing kelp, look for dark green or brownish-green varieties. Avoid kelp that is yellow or bleached-looking. The most popular types of kelp are wakame (sea mustard) and kombu.
An easy way to add kelp to your vegan diet is to keep a decent kelp seasoning in your pantry. Bragg's makes an organic, salt-free "Sea Kelp Delight" seasoning that's vegan and includes 24 herbs and spices!
Salicornia (Sea Bean)
Not technically a seaweed, salicornia is a succulent plant that grows in salt marshes on the coastlines of Europe and North America. The plant is also known as samphire, glasswort, or pickleweed and is harvested for its edible shoots. Sometimes called "sea asparagus", salicornia has a crunchy texture and a slightly salty flavor, making it a popular ingredient in salads and stir-fries. There are many varieties of salicornia, each with a slightly different flavor.
Nori
Nori is a type of edible seaweed that is most commonly used to make sushi rolls. It has a slightly salty taste and a chewy texture. Nori is a good source of vitamins A, C, and E and minerals like magnesium and potassium. 
How to eat more sea vegetables
Sea vegetables come in many shapes and textures, from soft sheets of nori (seaweed) to crispy dried wakame (a type of kelp). Let's look at some vegan ways to enjoy these nutrient-dense veggies.
Miso soup with wakame
A delicious and nutrient-packed way to enjoy sea vegetables is by adding some to miso soup. Just throw in some wakame (a type of kelp) or hijiki (a different kind of brownish-red seaweed) while simmering your stock, and you're all set. Feel free to add tofu or veggies like green onion for added flavor.  If you order miso soup in a restaurant, check if it's vegan because many restaurants add fish oil to their miso soup stock.
Use dulse as a salt substitute
Dulse is red algae with a slightly salty taste, making it an excellent seasoning for many dishes. Try using dulse flakes as a salt substitute on roasted vegetables, in soups or stews, or on top of avocado toast!
Try sprinkling dulse flakes onto popcorn instead of salt; it tastes amazing and has fewer calories than any other topping.
Nori seaweed rolls
Nori rolls are a fun and easy way to enjoy sea vegetables. Nori, or dried seaweed paper, is a popular ingredient in Asian cuisine. It comes in sheets typically used as wrappers for sushi. You can find nori at your local grocery store (usually near the tofu) or online at places like Amazon. The seaweed provides a crunchy texture that pairs well with rice and other ingredients, such as avocado or cucumber.
To make your own nori rolls: 
Take one sheet of nori and cover it with a damp cloth for about 10 seconds until it becomes slightly pliable but not too wet.
Lay out your filling ingredients on half of the sheet, leaving about an inch of space at either end for sealing it shut later on.

Traditional fillings include carrots, cucumbers, avocado slices, and cooked brown rice seasoned with sesame oil or tamari (a naturally fermented soy sauce). You can also use firm tofu or edamame beans in your roll.  
Seaweed salad
Seaweed salad is usually vegan (definitely ask first if you order it in a restaurant, though!). It's low in calories and high in nutrition, such as dietary fiber and other minerals that are essential to human health. You can use any type of seaweed in a seaweed salad, but sliced kelp or kombu works well. If you can't find those options, use wakame instead. Here's an easy vegan seaweed salad recipe that uses wakame, avocado, and air-fried tofu.  
You don't need to follow an exact recipe for seaweed salad, though. Instead, you can start with a seaweed base and customize it using any plant-based ingredients you like. For example, cabbage, carrots, cucumber, or scallions would all be great additions. For the dressing, you can mix sesame oil, soy sauce, and vinegar or use your favorite store-bought Asian-inspired dressing.
Swap potato chips for seaweed chips
Try sea vegetable chips instead of potato chips. The salty taste of sea vegetable chips makes them an excellent alternative to potato chips if you're trying to reduce sodium intake. In addition, seaweed chips have a satisfying and healthy crunch! Annie Chun's makes an excellent vegan seaweed snack. If you're looking for more of a crunchy chip, 12 Tides makes puffed kelp chips that are gluten-free and come in a variety of flavors.
Kelp noodles as a pasta substitute
If you're trying to eat less pasta or just looking for a way to get more greens into your diet without having to cook them, kelp noodles are here for you.
You can replace regular pasta with kelp noodles in any dish. Use them in salads or a stir-fry with veggies, tofu, and a little sesame oil. They only require about two minutes of soaking before they soften enough to use as noodles, and there's no cooking required. Just be sure you Don't overdo it by leaving them in water too long because then they'll turn slimy. 
Kelp noodles are available at most Asian markets, but if your store doesn't carry them yet, ask if they can order some from their distributor so there will be plenty waiting for you when the next weekend rolls around!
The Bottom Line
Sea vegetables are a vegan and more eco-friendly alternative to traditional seafood. They are packed with vitamins and minerals that can boost your health in a variety of ways, and they offer a unique and delicious culinary experience. So whether you're looking to be more environmentally friendly, improve your health, or try something new, sea vegetables are worth exploring! If you've been confused in the past about how to use them, give these ideas a try. Enjoy!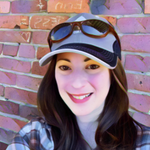 Nicole
Long time vegan living in upstate NY.  Web developer and founder of Vegan ShowOff.  She's addicted to ice cream and loves hiking, snowboarding, gardening, and travel.  Read more from Nicole!