Madhava Salted Caramel Coffee Syrup Review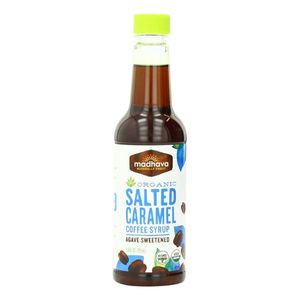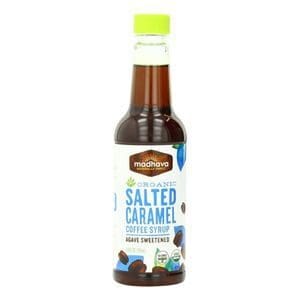 Product Name: Madhava Organic Salted Caramel Coffee Syrup
Product Description: Organic, agave-sweetened coffee syrup with salted caramel flavoring.
Brand: Madhava Natural Sweeteners
Dietary Notes: USDA Organic, Non-GMO, Kosher
Availability: Discontinued
Summary
This organic salted caramel coffee syrup is super tasty without being overly sweet! A little bit goes a long way and the ingredient list is short and clean. It will turn your boring cup of coffee into a gourmet beverage without leaving the comfort of your home. So happy this product is vegan and I'm glad I happened to have come across it!
Community Rating:
( reviews)
Madhava Organic Salted Caramel Coffee Syrup Review
What a lovely discovery this salted caramel syrup was!  For some reason I have a hard time finding caramel things that are vegan.  Maybe it's just me but I cannot find any sea salt caramel vegan chocolate bars near me!  It's a sad thing too since I love sea salt and I love caramel!  Although I pronounce it the unsophisticated way apparently (car-mull) hahaha.  Oh well.  So I was shopping with my sister and she was looking at the coffee flavor section for some reason (because I normally wouldn't seek out coffee syrups), and of course the big "Salted Caramel" label stuck out at me so I grabbed it to read the ingredients because I thought by chance it might be "accidentally vegan".  Lo and behold I turned it over and there was an actual vegan symbol!  Well I was already way over budget (as usual) and this was pricey and something I considered a luxury or a treat item, so I kept it in mind for the future.  Then my sister decided to buy it and I was excited because I knew she'd let me sample some!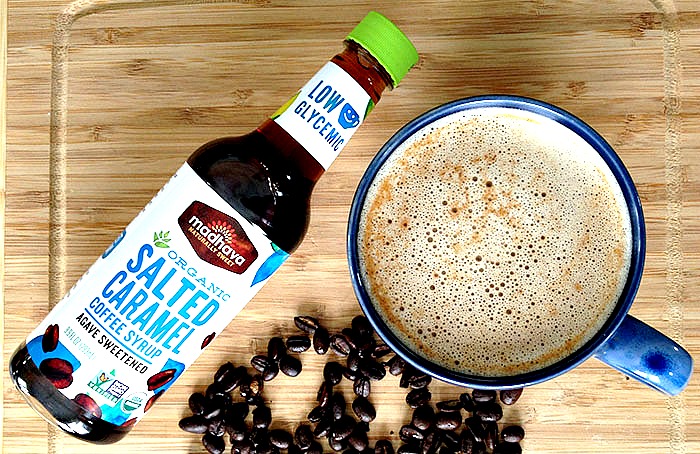 She let me take it home to take pictures and do a taste test but she'll be lucky if there's anything left by the time I give it back to her!  So I opened it and took a swig off the bottle and I was amazed by how yummy it was.  It wasn't overly sweet at all like a lot of the coffee syrups and flavorings seem to be. This one is made from organic agave and has a really short ingredient list with no nasty chemicals!  I immediately thought it would be awesome drizzled over some Trader Joe's Vanilla Soy Ice Cream. Just a tiny bit of it swirled in would be amazing!  I'm going to have to definitely try that before I give her the bottle back.
Madhava Salted Caramel Coffee Syrup Ingredients and Nutrition Facts
This stuff has a lot of positive attributes besides the taste:  It's Non-GMO, USDA Organic, Kosher, and the plastic container is BPA-Free.  All of that aside, the big test was in my coffee the next morning.  I just put a tiny, tiny amount in (about a 1/4 teaspoon) because I don't normally use sweetener in my coffee and I was still a little traumatized by the memory of this flavored coffee creamer I tried last week. Well let me tell ya, it was the perfect amount!  Not overly sweet at all and just a hint of the salted caramel flavor.  It literally transformed my regular morning mug into a gourmet coffee beverage I'd get at some fancy coffee shop.  A big bonus for me is that although it's a bit pricey, you have to use a very little amount so it should last a really long time.  Unless you drizzle it all over your ice cream like I want to do, then it might use it up a bit faster!
I can actually think of tons of uses for this syrup!  To drizzle in my oatmeal, over homemade vegan cheese cake, you could even make vegan chocolate cupcakes with vanilla frosting and then drizzle this over the top of them with some coarse sea salt.  Oh I could go on and on but I'll stop torturing you (for now).
If you're a salted caramel fan then you must try out this out and it will change your life!  If you've already tried it then leave your thoughts below!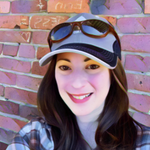 Nicole
Long time vegan living in upstate NY.  Web developer and founder of Vegan ShowOff.  She's addicted to ice cream and loves hiking, snowboarding, gardening, and travel.  Read more from Nicole!