Amy's Vegan Spinach Pizza Review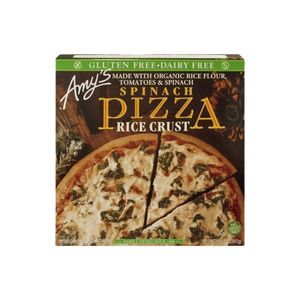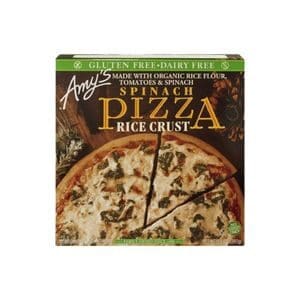 Product Name: Amy's Gluten Free Dairy Free Spinach Pizza
Product Description: A delicious frozen pizza made with a gluten-free rice flour crust and two different kinds of dairy-free cheese.
Brand: Amy's Kitchen
Dietary Notes: Gluten Free, Kosher, Non-GMO
Summary
This Amy's Dairy-Free, Gluten-Free Spinach Pizza is a favorite quick meal of mine when I'm craving a healthier version of pizza. I love the delicate rice crust and ample amounts of spinach and vegan cheeze! This pizza is light and non-greasy and definitely a guilt-free version of a traditional pizza. Find this pizza at most grocery chains in the US!
Community Rating:
( reviews)
Amy's Gluten Free Dairy Free Spinach Pizza Review
Well I must say that this Amy's vegan spinach pizza is my personal favorite frozen pizza that I've tried so far.  I actually buy it on a regular basis and I'm not gluten-free, I just love the crust!  The crust is made from rice flour, which has a delicate texture that works really well with this pizza.  This pizza is light, non-greasy, and leaves me feeling like I ate something healthy instead of indulged in half a pizza! Yes, I do eat half of this frozen pizza in one sitting (dipped in vegan ranch dressing, of course!).  It says there are 3 servings in the box so I'm not that far off!  Although I do admit I'm a little overly full when I eat 1/2 the pizza at once.  Traditional pizza I could never eat more than a slice or two max, since it was always so greasy and heavy!  Believe it or not, I was never a huge pizza fan before I became vegan, but now I'm totally into it!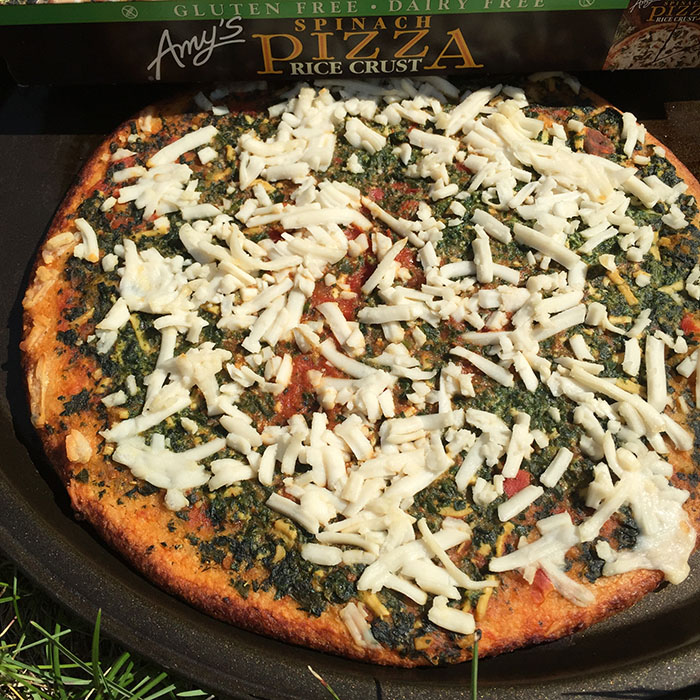 I personally have trouble getting all of the cheese to melt completely without burning the crust!  I'm working on perfecting that since it says on the box that you can turn it on broil at the end to just melt the cheese more.  I always forget this step until it's too late though!  Nevertheless, the pizza always turns out tasting super yummy!
I don't know if the secret ingredient is the sunflower seed meal or the two types of soy cheese (mozzarella and ricotta), but this pizza is unique and amazingly addictive!  It's also NON-GMO and made with organic rice flour, tomatoes, and spinach, which is a huge plus of course!
Amy's Gluten Free Dairy Free Spinach Pizza Ingredients and Nutrition Facts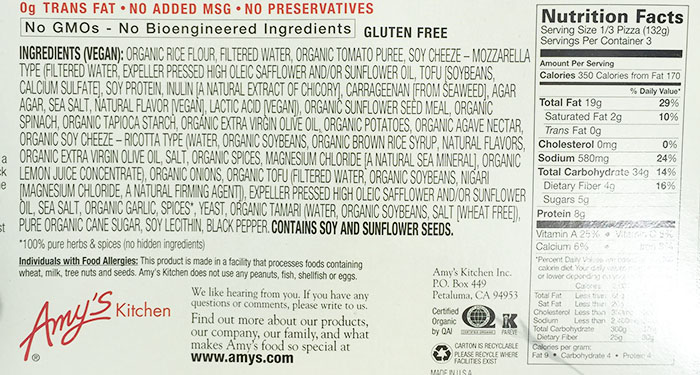 This Amy's Spinach Pizza is pre-cooked so it only takes 12 minutes in the oven and it's ready to eat! Faster than delivery and way healthier too!  I personally like to garnish mine with a few twists of fresh cracked black pepper and some of my homemade cheezy sprinkle!
Have any of you tried this kind of Amy's vegan pizza yet?  If so, leave your thoughts below!  I've heard you either really love this pizza or you really don't (I'm obviously in the "really love" camp).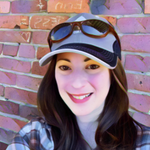 Nicole
Long time vegan living in upstate NY.  Web developer and founder of Vegan ShowOff.  She's addicted to ice cream and loves hiking, snowboarding, gardening, and travel.  Read more from Nicole!